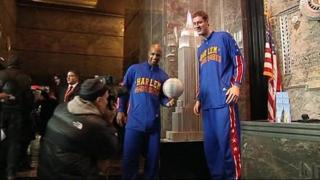 Meet Tiny - the giant basketball player!
If you are 2.37 metres tall then you'll probably get a few nicknames from your pals.
Well the Harlem Globetrotters' newest signing, and their tallest ever player, is called Tiny!
Paul 'Tiny' Sturgess is also the first ever British player to sign to the legendary basketball side.
And what better place to make your first appearance as a Globetrotter - New York's tallest tower the Empire State Building!