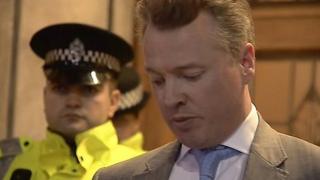 One of Britain's most famous football clubs, Glasgow Rangers, is in real danger of going bust.
The Scottish champions, who've won the Scottish league title 54 times, are in the middle of a big legal argument about owing money to the government.
The owners of the club have decided that they can't afford to carry on running things so the club will now lose 10 points in the league.
The club's now working out if it can afford to pay for match policing.
If they can't pay for police, Saturday's match against Kilmarnock may not go ahead.
With the points docked, Rangers are now second in the table, four points behind Celtic.
What happens now?
It doesn't mean the end of Rangers, but the club may have to sell players to raise money.
They'll have to look for ways of saving money - and losing 10 points could affect their chances of playing in Europe next season.
Owner Craig Whyte said that the club would become "fitter and stronger", but he was booed by angry fans outside the stadium.