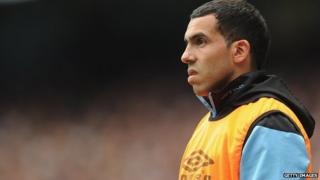 Getty Images
Carlos Tevez has apologised after saying he was treated "like a dog" by Manchester City boss Roberto Mancini.
Tevez hasn't played for City since September, when Mancini says he refused to play against Bayern Munich.
In a TV interview, the striker also said that Mancini swore at him and that they almost had a fight.
Speaking after arriving at Manchester Airport on Tuesday, Tevez said "If I was wrong, I say sorry. I sincerely believe I did not make a mistake."
It's the first time Tevez has been back in England since leaving for his homeland Argentina, where he's been without City's permission since November.
City fined Tevez more than £1 million, and they have not paid him since he left England.
He was expected to move to a new club in January, but nothing was organised.
He's now hoping to resolve his differences with the club.
Tevez said: "I gave everything to that club and what I love above all is to play football."