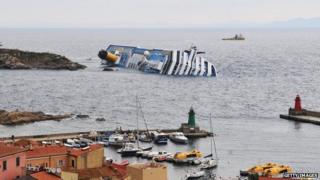 Getty Images
Workers have begun pumping fuel from the cruise ship Costa Concordia, which sank off the coast of Italy last month.
There was over 2,300 tonnes of oil and diesel in the tanks of the ship - which could be disastrous if it leaked out.
The pumping began on Sunday afternoon and officials say it will take a month to empty the tanks.
The fuel pumping had been delayed because rescuers were still looking for survivors and also the weather conditions had made it more difficult.
But the delay made people concerned that the oil, that had started leaking out into the sea, would affect the wildlife in the area.