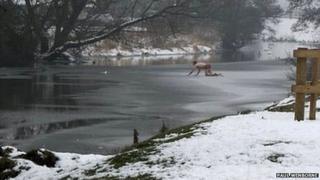 Other
A man wearing just his pants has crawled across a frozen river to rescue his trapped dog, but has been told off by firefighters.
The man apparently fell into the River Stour in Essex but managed to climb out with the dog.
The incident has been described as a "foolish act of bravery" and an Essex Fire Service spokesman said it was "extremely dangerous".
Another dog-walker said: "We couldn't believe what we were seeing."
"He stripped down to his pants and started crawling across the ice," he added. "He fell in but managed to get hold of the dog and put it on the ice."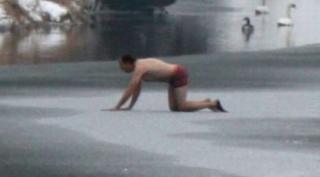 Other
Daft doggie daredevil danger?
A spokesman from Essex Fire Service warned people against trying to walk or crawl on ice.
"Even though this ice appears to be strong it can be eggshell thin and anyone who falls through into the water below could get trapped under the ice and would only be able to survive for minutes in the freezing water," he said.
"It isn't worth the risk. Dogs will normally make it safely off the ice and back to the shore - the same cannot be said for people."