The world of music has been stunned by the death of famous American singer, Whitney Houston.
Known to most as just 'Whitney', she was found dead in a hotel room. Police are investigating what happened but say it's nothing suspicious.
She was 48 when she died, and was known to have been battling drug problems.
But she was best known as a record-breaking pop performer with famous hits such as I Will Always Love You and I Wanna Dance With Somebody.
Whitney the superstar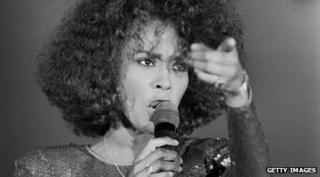 Getty Images
Whitney Houston was the daughter of a famous gospel singer, cousin of 1960s pop diva Dionne Warwick, and the goddaughter of soul sensation Aretha Franklin.
From the age of five, she was singing gospel songs in her local church.
She spent her youth singing backing vocals on other pop artists' recordings.
She went on to be the most successful soul singer of all time with worldwide album sales of 200 million.
Some of her most famous songs include Saving All My Love For You, I Wanna Dance With Somebody, and The Greatest Love Of All.
Record-breaking talent
Her recording of I Will Always Love You broke records at the time of its release in 1991.
It was the theme song to a film, The Bodyguard, in which she starred.
It stayed at number one in the charts for 14 weeks in the UK and 26 weeks in America.
Troubled life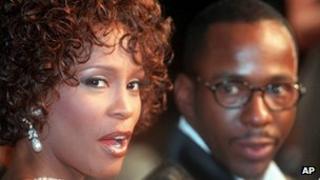 AP
In 1992 she married another soul singer, Bobby Brown, but they had a troubled life.
She became ill because of taking drugs and people began to notice her voice wasn't as good as it used to be.
Her voice became damaged because of the drug-taking, and she was no longer able to sing the high notes for which she'd become famous.
But for millions of music fans she will be remembered for her amazing songs.
At the 2012 Grammy Awards, stars led tributes to her, and singer Jennifer Hudson performed Whitney's famous song I Will Always Love You.