Both Luis Suarez and Kenny Dalglish have apologised after Suarez refused to shake Evra's hand at Manchester United's game against Liverpool.
The apologies have been made after the Americans who own Liverpool Football Club got involved.
Fans and footballers are now hoping this draws to a close the issues of racism that have affected the game in recent weeks.
"I realise I got things wrong," said Suarez.
What happened with Suarez and Evra?
On Saturday, Suarez refused to shake the hand of Patrice Evra at Manchester United's match with Liverpool.
He had previously said he WOULD shake hands, so it was a surprise when he avoided Evra's hand.
It caused an angry reaction from Evra, who spoke to the referee immediately afterwards.
After the match, Kenny Dalglish spoke out angrily in defence of Suarez, but on Sunday he made an apology.
Dalglish said: "When I went on TV after yesterday's game I hadn't seen what had happened, but I did not conduct myself in a way befitting of a Liverpool manager during that interview and I'd like to apologise for that."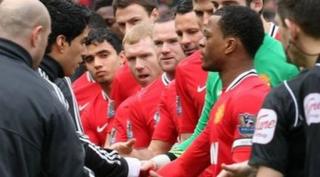 Getty Images
Why was Suarez angry?
Suarez recently returned to the Liverpool team after an eight-match ban for making racist comments to Patrice Evra at a match against Manchester United in October.
The situation was controversial because the ban from the FA was so severe, and Suarez maintained he had done nothing wrong.
His Liverpool team-mates and manager had also defended him.
But Liverpool did not appeal against his eight-match ban.
He missed some of Liverpool's biggest matches in January including their Carling Cup semi-finals against Manchester City.