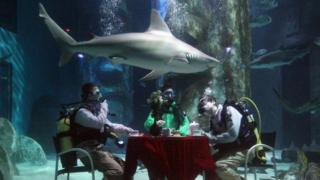 PA
Fancy a bite? Well these three divers were pushing their luck, throwing a tea party inside a shark tank!
Staff at the London Aquarium took part in the stunt to prove that sharks are actually a lot friendlier than they look.
"The fact is sharks are far more at threat from humans than humans are from sharks," said Rachel Wicks, one of the partygoers.
The stunt was put on to launch a new shark attraction at the aquarium.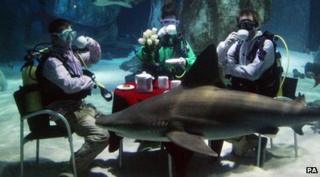 PA
Joining the divers tea party were black tip reef sharks, nurse sharks, brown sharks, sand tiger sharks, a zebra shark and a bowmouth guitar shark - phew!
The aquarium says that more people die from creatures like mosquitoes, dogs and snakes than sharks.