Prince Harry has won a prize for his shooting skills after completing his helicopter pilot training.
The Prince, or Captain Wales as he's called in the armed forces, was awarded a prize for being best co-pilot gunner.
He's now a fully qualified Apache helicopter co-pilot, after 18 months of tough training in the UK and the US.
The third in line to the throne could now return to Afghanistan as part of the Army Air Corps.
The helicopter Harry has qualified in is called an Apache.
It's one of the most hi-tech attack helicopters in the world, equipped with rockets, missiles and a machine gun.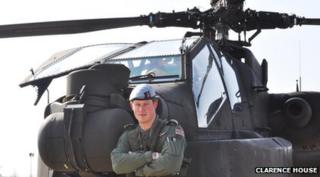 Other
Prince Harry has already been to fight in Afghanistan, back in 2008.
His job then was to call in air strikes over Taliban positions, but his tour was cut short when newspapers revealed he was out there fighting, putting him and others in danger.