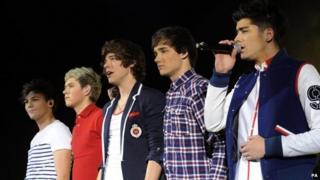 PA
Things seem to be going well for the One Direction boys - they've bagged themselves a Brit Award nomination (for Best Single) and they're touring America with Big Time Rush in February and March.
But Louis, Niall, Harry, Liam and Zayn haven't forgotten their British fans as they're bringing out their third single, One Thing. Is it any good?
When's it out?
12 February.
The style
After the slushiness of Gotta Be You, the One Direction boys make a welcome return to the catchy rock-pop of What Makes You Beautiful.
Much like their debut smash, it starts off quietly with Liam's vocals before building up to a massive singalong chorus: "Get out, get out, get out of my head... and fall into my arms instead!"
Will you still be humming it next week?
Definitely, this song instantly got us humming along. You'll soon be telling the One Direction boys to "get out, get out, get out of my head"!
Will it make the charts?
We're not sure about our chances of marrying Harry, but there's one thing we ARE sure of - it's that this song will make the charts. Top five, we reckon.
NR rating: 4.5 out of 5