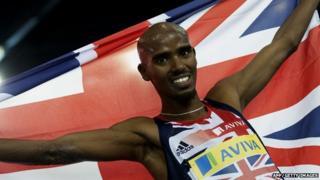 AFP
Top British athletes like Mo Farah could receive their Olympic medals barefoot, because of a sponsorship row!
Team GB's outfits are sponsored by Adidas, but some stars are individually backed by rival company Nike.
British Olympic officials let stars wear their own footwear when competing, but they want everyone to wear the full Adidas kit on the podium.
So it's been reported that some Nike athletes will take their shoes off - to avoid annoying their sponsor!
It's not just Mo Farah - other competitors that could be affected include hurdler Dai Greene and cyclist Mark Cavendish.
Athletes often rely on sponsorship money from companies to help pay for their training costs.