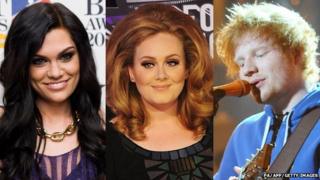 Other
Jessie J, Adele and Ed Sheeran helped British acts sell more than half (52.7%) of all UK album sales in 2011.
It's the biggest slice of the album market that homegrown artists have had in 15 years.
Much of that was down to Adele's unstoppable 21, which sold a staggering 3.7 million copies.
Albums from Coldplay, Jessie J, Ed Sheeran, Amy Winehouse and Olly Murs all shifted between 500,000 and 1 million.
Records from Bruno Mars and Lady Gaga helped American acts take second place.
Canadian artists, such as Justin Bieber, grabbed third spot.