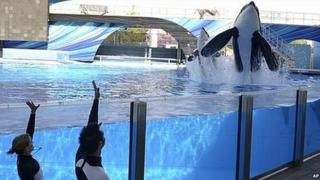 AP
Five SeaWorld killer whales have found themselves in a court battle - over whether they should have the same protection from slavery as humans do.
Peta (People for the Ethical Treatment of Animals) thinks the orcas are being treated like slaves, as they're forced to live in tanks and perform every day.
It's calling on a US judge to release the killer whales. SeaWorld's lawyers said the case was a waste of time.
Human slavery was abolished in America back in 1865.
The 13th Amendment to the US Constitution was passed that year to declare slavery illegal.
It's thought this is the first time a case like this has been brought to a US court.
But SeaWorld lawyer Theodore Shaw argued: "Neither orcas nor any other animal were included in the 'We the people'... when the Constitution was adopted."
The judge will announce his decision at a later date.