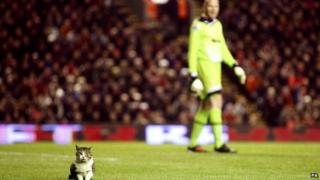 PA
It was more fur-ball than football at Anfield on Monday night, when a cat brought excitement to a dull Premier League game between Liverpool and Spurs.
The match came to a halt while stewards tried to get the cat off the pitch.
The game was lacking any purr-puss before the four-legged pitch invasion.
Tottenham goalie Brad Friedel had to dodge the mischievous moggie but it didn't seem to give him kittens.