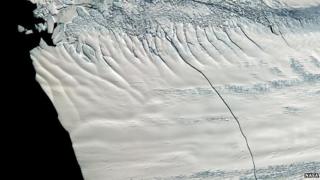 NASA
Nasa scientists have discovered a massive crack across a glacier in Antarctica.
It's a huge 19 miles long, 80 metres wide and 60 metres deep and is on the Pine Island glacier.
It was found by scientists working in Antarctica and then the picture above was taken from space, by Nasa's Terra spacecraft.
Eventually the crack could extend all the way across the glacier and create a giant iceberg.
The iceberg itself, if it did break free, would measure about 350 square miles - that's about half the size of London!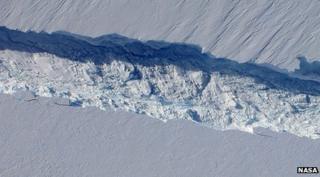 NASA
Scientists are particularly interested in this glacier as it's one that contributes a lot to rising sea levels, and the rate at which it's moving towards the sea is speeding up.