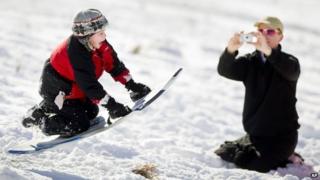 AP
Lots of places across the UK were covered in snow this weekend.
Did it snow where you are? Have you been out sledging or building snowmen?
Or perhaps you've been keeping warm indoors looking at the snow through the windows?
If you've got great snaps that you've taken of the snow, then throw them our way!
Email newsroundpix@bbc.co.uk and we'll put some of them up on the Newsround website.
Don't forget to tell us your name, age, and where you're from!