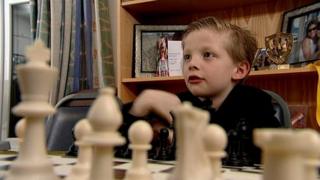 A six-year-old from Oxford is taking part in his first adult chess tournament after becoming obsessed with the game.
Callaghan took up chess last summer because he suffers from bad asthma.
Now he is captain of his chess team at SS Philip and James Primary School, playing against children who are two years older than him.
He also regularly beats his father Steve at chess.
His mum Sarah said: "Neither of us used to play chess. We were looking for a game or a sport Callaghan could play indoors."
His goal is to be the youngest ever grandmaster - and grandmasters are normally MUCH older adults!