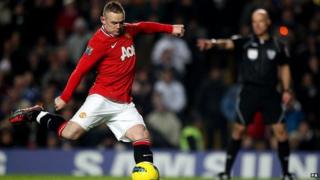 PA
Manchester United held Chelsea to a 3-3 draw in a stunning comeback on Sunday.
At half time the second-place Premier League team were down 3-0 at Stamford Bridge after three strong goals by Chelsea.
But thanks to two penalties scored by Rooney, the reds fought back and levelled 3-3 after 90 minutes.
It means Manchester United are still second in the Premier League, but only two points behind leaders Manchester City.
On Saturday, Arsenal punished Blackburn with a 7-1 victory thanks to a Van Persie hat trick and two goals from new sensation Oxlade-Chamberlain.
Thierry Henry scored Arsenal's seventh goal.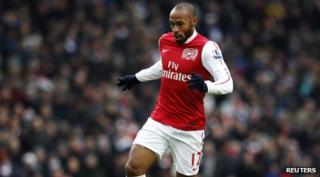 Reuters
He has two matches remaining with Arsenal - both at away grounds - before his loan deal comes to an end.
In other Premier League matches, Manchester City thumped Fulham 3-0 to stay top of the table. Norwich taught Bolton a lesson with a 2-0 victory, and Stoke were beaten at home by a strong Sunderland.
Newcastle continued their impressive form with a 2-1 victory over Aston Villa.