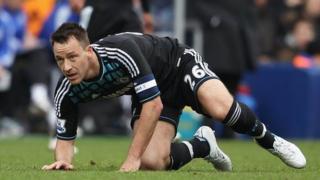 Terry loses England captaincy
John Terry is no longer the captain of the England footy team.
The Football Association have decided he should not be the captain because he has been accused of racially abusing another player.
Terry says he is not guilty of the charge. He's due to go on trial in July.
The bosses at the FA don't think it's right for him to be England captain for the Euro 2012 finals while he is awaiting the trial's verdict.
It all goes back to a match between Chelsea and QPR last October, when the Chelsea captain was accused of saying something racially abusive to QPR player Anton Ferdinand.
Terry denies that he did, and the trial to decide whether he is innocent or guilty will take place on 9 July, which is after the big Euro tournament in Poland and Ukraine.
The captain's job was taken away from John Terry once before, when he was involved in a personal dispute with another player, Wayne Bridge.