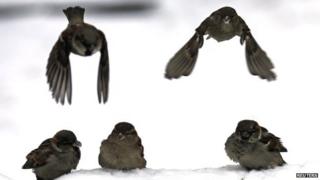 Reuters
By the time you read this, snow might be on its way, and you'll certainly be feeling cold outside.
Weather experts say there's a battle between warm and cold air above Britain - and the cold air will win!
The snow - which has been causing big problems across Europe - is expected to hit Britain big-time at the weekend.
The experts say the massive wave of extremely cold air will cause snow on Saturday or Sunday.
Cat owners warned
Meanwhile animal charity Blue Cross has warned pet owners to keep cats indoors, away from gritter salt and antifreeze which can kill them.
Chief vet Mark Bossley said: "Salt is poisonous to cats and it can easily get on their paws or fur and be swallowed when they groom themselves.
"Watch out for antifreeze too, cats seem to like the taste but it is highly toxic to them."
Europe's fatal freeze
Elsewhere, Italy's having its coldest week for 27 years.
Around 11,000 people are trapped by snow in remote villages in Serbia.
And there's a shortage of food in Ukraine because lorries can't get there.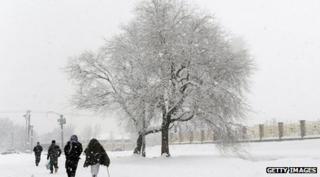 Getty Images