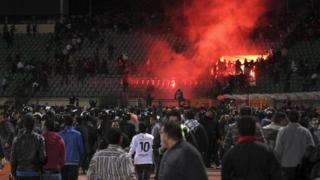 Riot at Egyptian football match
At least 74 people have been killed and hundreds more injured after rioting broke out at a football match in Egypt.
The violence happened at a match between two of the country's top teams - al-Masry and al-Ahly.
It's thought the riot started after rival fans of each team invaded the pitch in the city of Port Said.
Tension is now growing in Egypt's capital Cairo, as people protest against how the police handled the trouble.