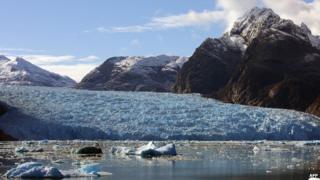 AFP
Police in the South American country of Chile have arrested a man for stealing part of a glacier.
They found five tonnes of ice in the back of his lorry, which they think came from the Jorge Montt Glacier in Patagonia.
The man might have been taking the ice to the capital city, Santiago, to make ice cubes to put in expensive drinks.
The glacier is protected by law but is getting smaller all the time, possibly because of global warming.
If the ice had reached its destination, it might have been worth the equivalent of £4,000.