Lab tests on two deer found dead in Gloucestershire have ruled out them having been killed by a 'big cat'.
When the first deer was discovered a month ago, some thought it might've been killed by a cat like a panther.
But after weeks of testing by scientists, it's looking more likely they were killed by a fox.
Local people in the area aren't convinced though, and believe that big cats are roaming around the Gloucestershire countryside.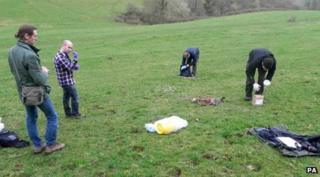 PA
The two roe deer were found within a week of each other on land owned by the National Trust.
Rumours of big cats have been around there for some time, with locals describing a 'panther-like' animal living in the countryside.
45 tests later though, Warwick University experts ruled out the chances of it being a cat, and more likely a fox.