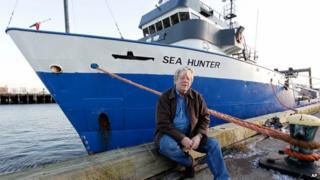 AP
A US treasure hunter says he's found a World War II shipwreck filled with platinum, now worth £2 billion.
Greg Brooks of Sub Sea Research reckons he's found the wreck of the SS Port Nicholson 50 miles off the east coast of the United States.
He says official records show it was carrying boxes of platinum bars - payment from the Soviet Union for US war supplies.
He thinks he's got underwater video footage that proves it.
But other people aren't so sure and argue the ship was carrying mostly machinery and other military supplies.
Atlantic supplies
The SS Port Nicholson was torpedoed and sunk by a German U-boat (submarine) in 1942, in an attack that killed six people.
The Atlantic was one of the main battlegrounds in World War II, because Britain and the Soviet Union relied on all sorts of supplies from the US.
Most of these came by ship and they could be easily attacked by German warships and U-boats.
Platinum is a precious metal that is usually more valuable than gold.
Greg says he'll get the Port Nicholson's platinum, even if he has to lift the ship out of the water.