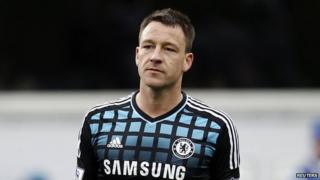 Reuters
A politician and a current footballer think that John Terry should step down as England captain ahead of Euro 2012.
Terry is accused of racially abusing another player - he say's he didn't, but it won't be decided if he did until after the tournament.
Jason Roberts, who plays for Reading, thinks that should mean Terry isn't picked to go to play for England in the summer.
Politician MP Damian Collins called for the defender to step down as captain.
It all goes back to a match between Chelsea and QPR last October, when the Chelsea captain is accused of using racially abusive language to QPR player Anton Ferdinand.
Terry denies that he did, and the trial to decide whether he is innocent or guilty will take place on 9 July, which is after the big tournament in Poland and Ukraine.
PA
Striker Jason Roberts thinks that having him as part of the team would affect the squad.
He said on a social networking website, "I have seen the Ferdinand case has been put back. On this basis I do not believe that the England captain should go to the Euros. Also more importantly, believe me... the dressing room at the Euros will be toxic unless the correct decision is made."
The man in charge of a top anti-racism group said that Terry shouldn't lead the team.
"Innocent until proven guilty, But should John Terry remain as England captain through the Euros? I can't see how he can," said Piara Powar, from Football Against Racism.