At least 74 people have been killed and hundreds more injured after rioting broke out at a football match in Egypt.
The violence happened at a match between two of the country's top teams - al-Masry and al-Ahly.
It's thought the riot started after rival fans of each team invaded the pitch in the city of Port Said.
Tension is now growing in Egypt's capital Cairo, as people protest against how the police handled the trouble.
Now the Egyptian Government is holding emergency meetings to try and work out what happened. Three days of national mourning have been declared.
Fighting between football fans in Egypt isn't unusual, and these two sets of fans are bitter rivals - but a government official said this was the worst football disaster the country had ever seen.
But people there are said to be angry and plan to protest because they don't think security and police in the stadium did enough to stop the riot.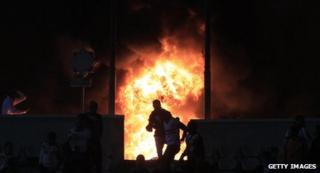 Getty Images
The atmosphere was described as tense throughout the game. After the final whistle of the match, fans ran onto the pitch and part of the stadium was set on fire.
A fire was also started at a match in the capital city Cairo.
Eygpt is going through a difficult time, after huge protests in 2011 meant the president at the time, Hosni Mubarak, had to step down.
At the moment, the army is running the country until it is decided who will be in charge.
Some people say that it's because of this that the violence started.
Hundreds of people went to Port Said's train station where a lot of the injured people were taken, and some were chanting messages against the army.