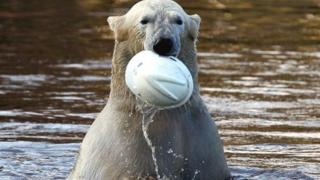 Polar bear
It's not easy weighing a polar bear, but some tomato ketchup should do the trick...
Three-year-old Walker lives in Highland Wildlife Park in Scotland and is the only polar bear on public display in the UK.
It's important that the animals at the park get weighed, but Walker is more interested in going for swim instead.
So staff have to tempt him with a fishy treat of mackerel mixed with tomato ketchup - yum - to lure him onto the scales.
Check out Joe's report to find out more.