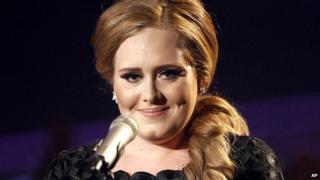 AP
Adele is going to make her comeback next week with a live performance at the Grammy Awards in America.
She had to take a break from singing because of a throat problem, for which she had surgery in November last year.
But now Adele's eager to get back on stage and said: "It's been so long I started to forget I was a singer!"
"...For it to be my first performance in months is very exciting and of course nerve-racking but what a way to get back into it all."
The singer is nominated for six Grammy awards, including record of the year for Rolling In The Deep, and is hoping to perform at the Brit Awards the week after as well.