It could have been a scene in a movie that's come straight out of Hollywood.
The moment an unknown actress from the Isle of Man was told she was going to be in a star in an upcoming blockbuster movie!
That's just what happened to Samantha Barks, when a top producer told her after a performance on stage.
She'll now play Eponine in a film version of the hit musical Les Misérables alongside top screen stars like Hugh Jackman and Anne Hathaway.
It was a total surprise for the actress, who'd just finished performing in Oliver! in Manchester's Palace Theatre.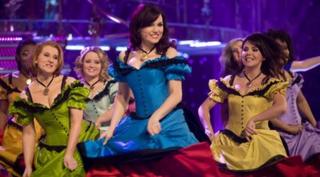 (C) British Broadcasting Corporation
Top theatre producer Cameron Mackintosh appeared on stage and told her that she'd been picked for the part.
Samantha looked gobsmacked, and afterwards revealed it was the biggest surprise of her life.
Before her sudden rise to fame, she'd appeared on the hit BBC show I'd Do Anything.
It was thought that superstar Taylor Swift might play Eponine in the film - but she got pipped by the 21-year-old from the north west of England.
The movie will be out in cinemas in December.
For the producer that found her though - her rise is an incredible story.
"This is a real rags-to-riches story - a 17 year old who had done nothing when she started out on I'd Do Anything on the BBC," Cameron Mackintosh said.