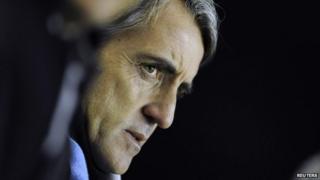 Reuters
It's all level at the top of the Premier League, as Manchester City's terrible month continued.
Roberto Mancini's team lost to Everton 1-0, which means that rivals Manchester United are now level at the top of the league.
United beat Stoke City 2-0, helping them take advantage of City's stumble.
After their game the Manchester City manager blamed himself for the result, saying his team didn't prepare properly.
It was an ex-United player that scored the winner for Everton - midfielder Darron Gibson hammering in from outside the box.
And if the result was a shock, it was an even bigger shock when a supporter handcuffed himself to the Joe Hart's goal post just before half time!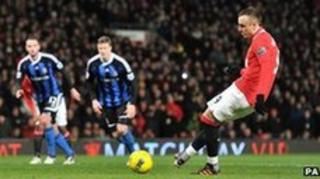 PA
Put that wasn't enough to throw Everton, and they defended brilliantly to hold on for the win.
Rivals Manchester United made it look a lot easier in their game at Old Trafford.
Two penalties, one from Javier Hernandez and one from Dimitar Berbatov were enough to beat Stoke.
The two Manchester teams are now level on points, although City are still on top because they've a better goal difference (they've scored a lot more goals than they have let in).
But don't ignore Tottenham Hotspur, they won 3-1 against Wigan and are 5 points behind.
Chelsea dropped points though, only managing a 1-1 draw with Swansea.
Liverpool are a team in form - beating Wolves away from home 3-0, with big money signing Andy Carroll managing to score.