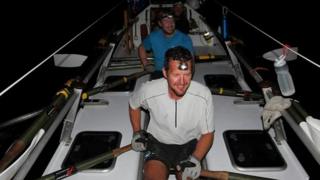 Other
Six rowers who were crossing the Atlantic Ocean have been rescued after their boat capsized.
The men, five from Britain and one from Ireland, were trying to break a record by rowing from Morocco to Barbados in under 30 days.
The crew were 27 days into their adventure and 520 miles from their destination when they got into trouble.
They were picked up by a ship and are expected to reach land by February 9.
When their 11-metre boat called the Sara G overturned, the crew managed to escape into a life raft.
After 12 hours until they were rescued, and one of the men has posted online that they are all now "safe and well".