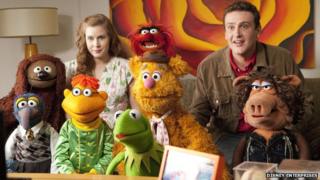 Other
Joe was at the premiere of the movie along with CBBC's Dodge. You can watch their report here but first, find out what they thought of the film.
The Muppets is a musical comedy about the world famous gang of puppets getting back together and putting on a massive show. You might not know much about the Muppets because although they're really famous, they haven't made a movie in 12 years!
When's it out?
It's in cinemas from Friday 10th February - rated PG.
The plot
When three muppet fans learn that an evil man wants to destroy the muppet theatre they set out to find Kermit the Frog.
They tell him about the evil plan and convince him to travel around the world to get his crazy muppet gang back together including Kermit's long, lost love Miss Piggy.
It's then a race against time to put on a show that will earn them enough money to buy back the theatre and make them all as famous as they used to be.
The stars
The Muppets are the stars! Kermit The Frog, Miss Piggy, Fozzie Bear, Beaker, Animal, Gonzo... the list goes on! From small prawns to giant furry monsters - there are dozens of puppet characters to make you laugh.
Others stars are Amy Adams (she was in the movie Enchanted) and Jason Segel (he was in Despicable Me). There are also lots of stars who come on screen just for a few seconds or for a joke like Jack Black (Kung Fu Panda) and singer Selena Gomez.
Hit or miss?
JOE says...Hit! It's really fun with lots of singing and dancing and silly jokes.
I didn't get why some bits were funny because I didn't know much about the Muppets before the movie but most of the mucking around is very funny whether you're a fan or not.
Good news for your parents is there are also a lot of grown-up jokes in it too so you'll all be able to laugh along.
DODGE says... I really liked the movie, but I think that it needed more dogs!
Me and Hacker would be brilliant in a movie. We're good at singing and dancing. My favourite thing about the film was the MASSIVE box of popcorn that I had, and I even found a hotdog under someone's chair at the end!
NR rating: 4 out of 5