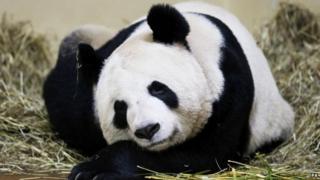 PA
Both giant pandas living at Edinburgh zoo are back on show after recovering from illness.
Yang Guang was removed from public display two weeks ago after he came down with colic, which causes a really painful stomach ache.
Tian Tian started suffering from the same illness over the weekend, and was also removed from show.
But both of them are now feeling better and the zoo reckons they're well enough to meet the public again.
Edinburgh Zoo vet Romain Pizzi said: "Colic is not uncommon in giant pandas and is not a great cause for concern. Pandas have sensitive digestive systems and it is likely Tian Tian and Yang Guang are simply adapting to eating slightly different bamboo."
Yang Guang, which means Sunshine, and Tian Tian, which means Sweetie, flew to Scotland from China in December and will live in Edinburgh for at least 10 years. It's hoped in that time that they will breed.