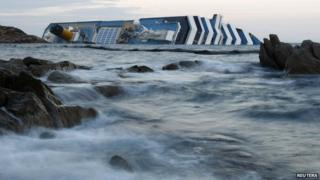 Reuters
It could take up to 10 months to remove the stranded cruise ship off the coast of Italy.
The Costa Concordia hit rocks and capsized on 13 January and has lain stranded there ever since.
17 people are known to have died, but it's not clear what happened to 15 others.
The huge ship weighs about 114,500 tonnes, and the man in charge of the rescue says it could take a long time to move it.
Franco Gabrielli said that the big goal was to try and make sure the environment wasn't damaged by fuel leaking out from the ship.
Bad weather has so far delayed the operation, but it's hoped to begin again this week.
Divers are still searching for people who might have been on board - but strong sea currents and high winds mean they have to keep stopping.