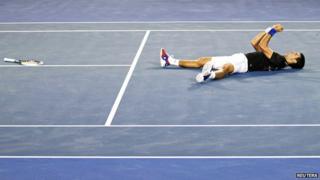 Reuters
Novak Djokovic is the Australian Open champion after winning a match that's being labelled the greatest final of all time.
The Serbian smasher beat rival Rafa Nadal in five sets - but that doesn't really explain just how EPIC the match was.
It lasted 5 hours and 53 minutes, which is almost as long as a day at school!
The world number one even managed to come back from a set down to beat Nadal in a nailbiting encounter.
It had all started badly for the defending champion, with Nadal racing to a one-set lead with some huge shots.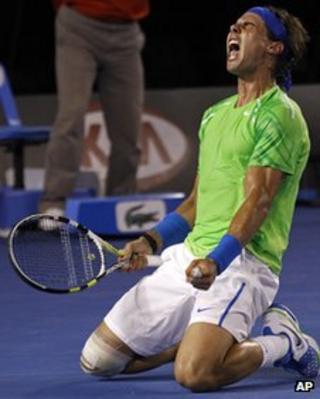 AP
But then came Djokovic's chance to shine, and some really attacking tennis won him the next two sets.
In baking Australian heat neither player was prepared to give up and Nadal was desperate to beat Djokovic having lost their last six showdowns.
So it was the Spaniard that won the fourth dramatic set in a tie-break, with the crowd going absolutely wild.
Both players were playing some of the most exhausting tennis ever seen in a final of a Grand Slam tournament.
By the fifth set, both players were so tired they could barely stay standing - and Djokovic dropped to the floor when he finally managed to win.
The emotion of it all made him roar in celebration, ripping his shirt and tearing it off!
Good sports
When collecting the trophy, close to tears, the world number one had some very nice things to say about his rival.
"Rafa is one of best players ever and one of the most respected guys on tour... Unfortunately there couldn't be two winners and I hope we have many more matches like this," said Djokovic.
Getty Images
"It was the longest Grand Slam final of all time. Just hearing that fact makes me cry."
For the losing finalist Nadal, even though he was disappointed to win, he said he enjoyed it.
"We played a nice tennis match, it was a very good show and I enjoyed being a part of it... I wanted to win but I am happy with how I did," said the number two seed.
And just to show how long the incredible final was, when someone asked Nadal if he would watch the match again he said: "No, it's too long. Just the highlights."
We think they both deserve a bit of a rest!
The day before, in the women's final, Victoria Azarenka became the new world number one after she won easily 6-3 6-0 over Maria Sharapova.