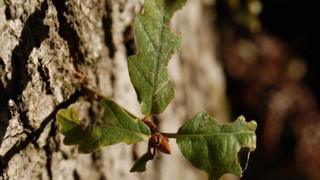 (C) British Broadcasting Corporation
The Woodland Trust are giving out thousands of free tree-planting packs to schools and groups across the UK.
They want to plant six million new trees all over the country to celebrate the Queen's Diamond Jubilee.
They aim to plant a million trees this February alone.
The packs, which will be ready to plant in the autumn will contain a Royal Oak sapling, which has been grown from acorns collected on Royal estates.
The Woodland Trust, which looks after woods across the UK, will also be planting a huge Diamond Park made up of 500,000 trees in the National Forest in Leicestershire.
They also plan to create 59 more Diamond Woods in addition to smaller Jubilee Woods all over the country.