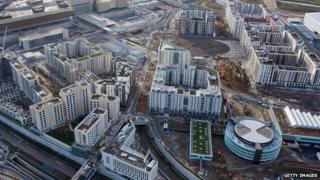 Getty Images
The Olympic Village is to be officially handed over to organisers of the London 2012 Olympics in a ceremony that marks six months before the Games.
Organisers now have the job of fitting out the 2,818 flats where the 16,000 athletes and officials will be staying.
The shopping list includes 64,000 bed sheets, 11,000 sofas, 170,000 coat hangers and 5,000 toilet brushes!
After the Games the village will be turned into houses and the area will be known as East Village.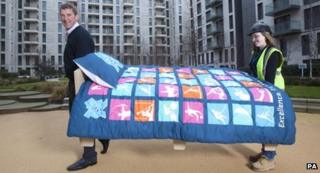 PA
During the Games 60,000 meals will be served a day.
It's believed the village will also get through 25,000 loaves of bread, 232 tonnes of potatoes, 75,000 litres of milk and over 330 tonnes of fruit and vegetables.
The village will also have a cafe, general store, bank, beauty & grooming salon, internet lounge, London 2012 shop and an entertainment centre.