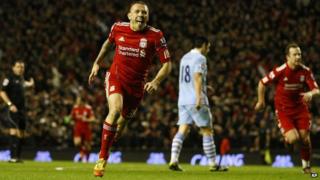 AP
Liverpool have made it to the League Cup final after beating Manchester City 3-2 on aggregate.
Craig Bellamy was the hero scoring against his old club with 16 minutes to go.
Man City took the lead twice on the night, but Steven Gerrard's penalty kept Liverpool in the game until Bellamy's strike.
The reds - who have won the League Cup seven times - will now play Cardiff City at Wembley on 26 February.
It will be a special occasion for Craig Bellamy as he played for Cardiff last season.