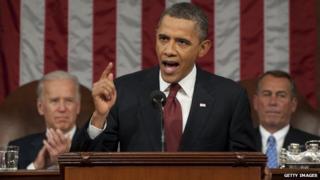 Getty Images
US President Barack Obama called for fair taxes for all Americans as he gave his third State of the Union speech.
The annual speech is when the president outlines his plans for the country in the year ahead.
This time, the President focussed on what he thinks is an unfair and unequal tax system.
He believes some wealthy Americans pay too little tax compared to how much they earn, and he wants them to be taxed more.
He says that families on an average wage pay a higher percentage of tax than wealthy people, and this needs to change.
The Republican party does not agree with Obama: they say that taxing rich people more will slow the growth of the country's economy.
But Obama believes that millionaires should not pay a lower tax rate than a normal worker and wants the wealthy to pay "their fair share of taxes".