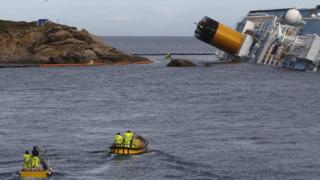 Fuel to be pumped off cruise ship
Italian authorities are preparing to start pumping fuel from the wreck of the Costa Concordia.
People are worried because it's carrying about 1.9m litres of fuel in 13 tanks.
And it's predicted it will take 28 days to remove all of the fuel.
The wreck is close to the Tuscan Archipelago National Park - home to rare plants and wildlife, including tree frogs, finches, and geckos.
A double containment boom will be used to help reduce the possibility of any oil reaching the shore.