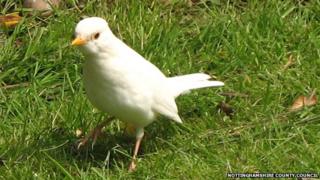 Other
This little blackbird might get confused if it looks in the mirror, as it's turned completely white!
It was first spotted in Rufford Abbey Country Park in Nottinghamshire four years ago.
Birdwatchers say it returns each year having lost more of its dark feathers: now it's white all over as this pic from summer 2011 shows.
The bird has a condition that causes it to have no colour pigment in its feathers.
Its bright colour means it's easy for predators to spot, so the park rangers are asking birdwatchers to keep an eye out for it again this year when it returns from migration - which is when birds fly to warmer climates for the winter.