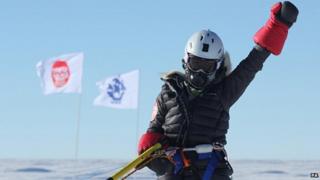 PA
Blue Peter presenter Helen Skelton has completed her 500-mile trek to the South Pole.
Helen travelled on skis, was pulled along by a kite and cycled on an ice bike during her Sport Relief challenge.
She battled for 18 days through severe snow storms and had to put up with temperatures as low as -48C.
Helen said despite her body hurting in countless places, finishing the challenge for Sport Relief felt "incredible".
Helen also set a new world record for the fastest 100km by kite ski - completing the distance in seven hours 28 minutes.
Her latest adventure follows her successful high-wire walk between the chimneys of Battersea Power Station, in London, and a solo kayak voyage down the length of the Amazon.