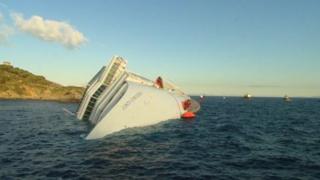 How did the cruise ship sink?
The cruise ship Costa Concordia ran aground just hours into its voyage on 13 January. What happened?
Just two and a half hours after leaving the port of Civitavecchia, the cruise ship Costa Concordia hits a rocky outcrop close to the Italian island of Giglio.
As water poured through the large hole in the ship's hull, the captain attempted to turn the ship around, towards the island's port, Giglio Porto.
Around this time a member of the crew tells passengers everything is under control and asks them to go back to their cabins.
The ship was taking on too much water and began to lean, or list, to one side. Passengers began to abandon ship, but it was difficult to use the lifeboats because the ship was leaning at such an angle.
In a recording of the phone call, the crew member can be heard saying: "We have a blackout and we are checking the conditions on board."
The captain is said to have left the ship in a lifeboat before all the passengers had been rescued. In another telephone call, the coastguard commander ordered the captain to get back on board. He didn't, and instead went ashore.
The search for survivors continued over Saturday and Sunday, and into the following week. The ship's safety officer was found with a broken leg at around lunchtime on Sunday.
Captain Francesco Schettino is arrested.
On Monday, the ship's captain Francesco Schettino is blamed by the ship's owners Costa Cruises, who say he made an "unapproved, unauthorised" deviation in course.
They accused him of sailing too close to the island in order to show the ship to locals, but he insists that the rocks weren't marked on his nautical charts.
The ship shifts, putting a halt to the search for several hours.
Shortly after daybreak rescue crews blast several holes in the ship so they can get to areas that they haven't been able to search.
On Tuesday afternoon, the rescue teams confirmed that they found the bodies of five people in the stern (the back) of the ship, raising the death toll to 11.
The search of the Costa Concordia has to stop after the capsized ship slips.
Commander Cosimo Nicastro, an Italian coastguard commander says he still has hope in the search for Costa Concordia survivors.
Captain Francesco Schettino admits making a navigation mistake, according to an Italian media say.
Rescue teams get back to work and salvage workers are on standby to start pumping fuel from the ship's tanks to avoid a potential environmental disaster.
The rescue operation aboard the ship is again suspended after the wreck shifts on the sea ledge.