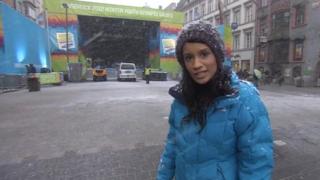 WW2 bomb found at Youth Olympics
An unexploded World War Two bomb has been discovered at the Winter Youth Olympics in Austria.
The bomb was found underneath the city of Innsbruck and a medal ceremony had to be put on hold until 65 police officers dug it up.
The explosive weighed 250kg and took four hours to be made safe.
This is the first time the Youth Winter Games have ever taken place and Team GB are still waiting for a medal.
Sonali's there at the moment and reported on the unexploded World War Two bomb.