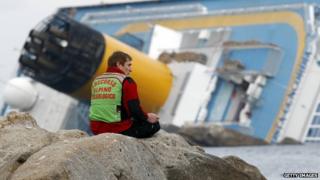 Getty Images
The rescue mission on board the sunken ship, the Costa Concordia has had to stop once again because of bad weather.
The search has been called off three times now because of worries that the ship could suddenly shift off the rocks it's resting upon.
Choppy waters have made it really hard for the rescue teams and the weather is set to get worse.
11 people died when the ship hit rocks off the Italian coast last Friday with around 4,200 people on board.
The ship has moved twice already stopping the rescue mission - with the search called off for almost all of Wednesday.
The Concordia's movements are being watched closely because any big shift could be dangerous for divers trying to locate the missing people.