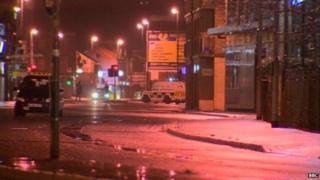 A big security operation has started in Londonderry after two bomb attacks in the city.
The bombs went off in two different streets just ten minutes apart.
No-one was injured but lots of people had to leave their homes when the police received two telephone calls warning them about the bombs.
Police have called the attacks, which happened just after 8pm on Thursday, as "cowardly and callous".
Officers had just 30 minutes to clear the area before the bombs went off.
It's thought the bombs were planted by a terrorist group who want Northern Ireland to be separate from the UK.