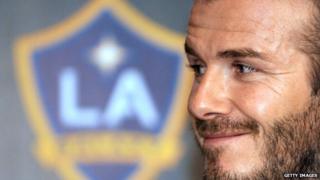 Getty Images
David Beckham is staying in America after signing a new two-year deal with LA Galaxy.
Rumours suggested that the former England captain would go to Paris St Germain but he's decided to stay at the team he joined in 2007 from Real Madrid.
"This was an important decision for me," Beckham has said.
"I'm still passionate about playing in America and winning trophies with the Galaxy.''
Beckham, started his career at Manchester United, helped Galaxy lift the MLS Cup last season which means he has won a major trophy with each of the clubs he has permanently signed for.
It now looks like Becks will finish his career in the United States.