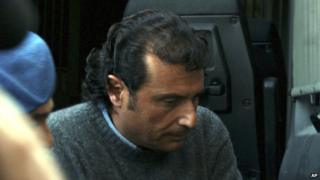 AP
The captain of the sunken cruise ship the Costa Concordia has admitted making a 'navigational mistake' according to La Repubblica, an Italian newspaper.
Francesco Schettino who is accused of causing the crash is currently under house arrest.
Search efforts are back on after having to stop on Wednesday when rough seas made the ship unstable.
Eleven people are known to have died after the ship hit rocks. There are more than twenty people still missing.
Plans to remove fuel from the Costa Concordia to stop a possible environmental disaster were also delayed on Wednesday, but teams are now at the ready to begin pumping off the 2,300 tonnes of fuel.
Telephone call
Captain Schettino is said to have abandoned the ship while passengers were still stuck on board.
A recording of a call between him and a port official after the crash seems to support this, but the captain says he didn't do anything wrong.
The ship, carrying 4,300 passengers and crew, was on the first night of a cruise when it ran aground in calm conditions last Friday.