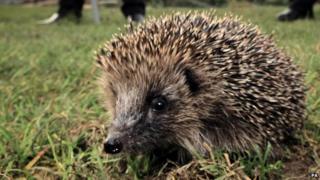 PA
It might not be a good idea to get too close - but two animal charities are asking as many people as possible to get involved in a big hedgehog study.
Numbers of the prickly fellas are thought to be dropping, and experts want to find out how climate change might be affecting hedgehogs.
Hedgehogs hibernate and it's thought that warmer temperatures mean they emerge from their winter sleep earlier.
So now you can help by recording when they are first spotted where you live.
A big survey was first done in the UK forty years ago - and that discovered hedgehogs' hibernation was affected by the temperature.
Back in the 1950s there were a whopping 30 million hedgehogs in the UK, but move forward 45 years to 1995 and that number is down to just 1.5 million.
It's probably dropped a lot further since then, too.
A lot of this is to do with the countryside where they live being replaced by houses and buildings, but scientists want to know if a rise in temperature could have lowered numbers as well.
To record any hedgehogs you spot this spring, you can head online to the British Hedgehog Preservation Society's Hibernation Survey.