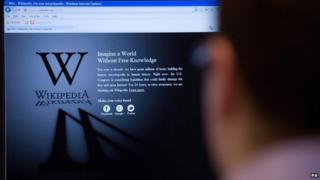 PA
If you're planning to check out some facts and stats on Wikipedia today you may run into a bit of bother.
The organisation has shut its English-language site for a day because they're unhappy about some anti-piracy laws that are proposed in America.
If you try and use the site you'll see a black screen with a message: "Imagine a world without free knowledge."
Wikipedia, and some other sites, are worried the new laws might be a way of censoring the internet.
The website is against the Stop Online Piracy Act and Protect Intellectual Property Act which are being debated by Congress, the US version of our Parliament.
The online encyclopaedia believes the proposed laws might lead to legal sites being controlled in what they can and cannot put online.
The acts would mean the owners of videos could ask courts to get search engines to block results associated with piracy.
Wikipedia's founder, Jimmy Wales, told the BBC: "The bill is so over broad...it's going to impact all kinds of things that don't have anything to do with stopping piracy."
The site was still available on mobile phones.